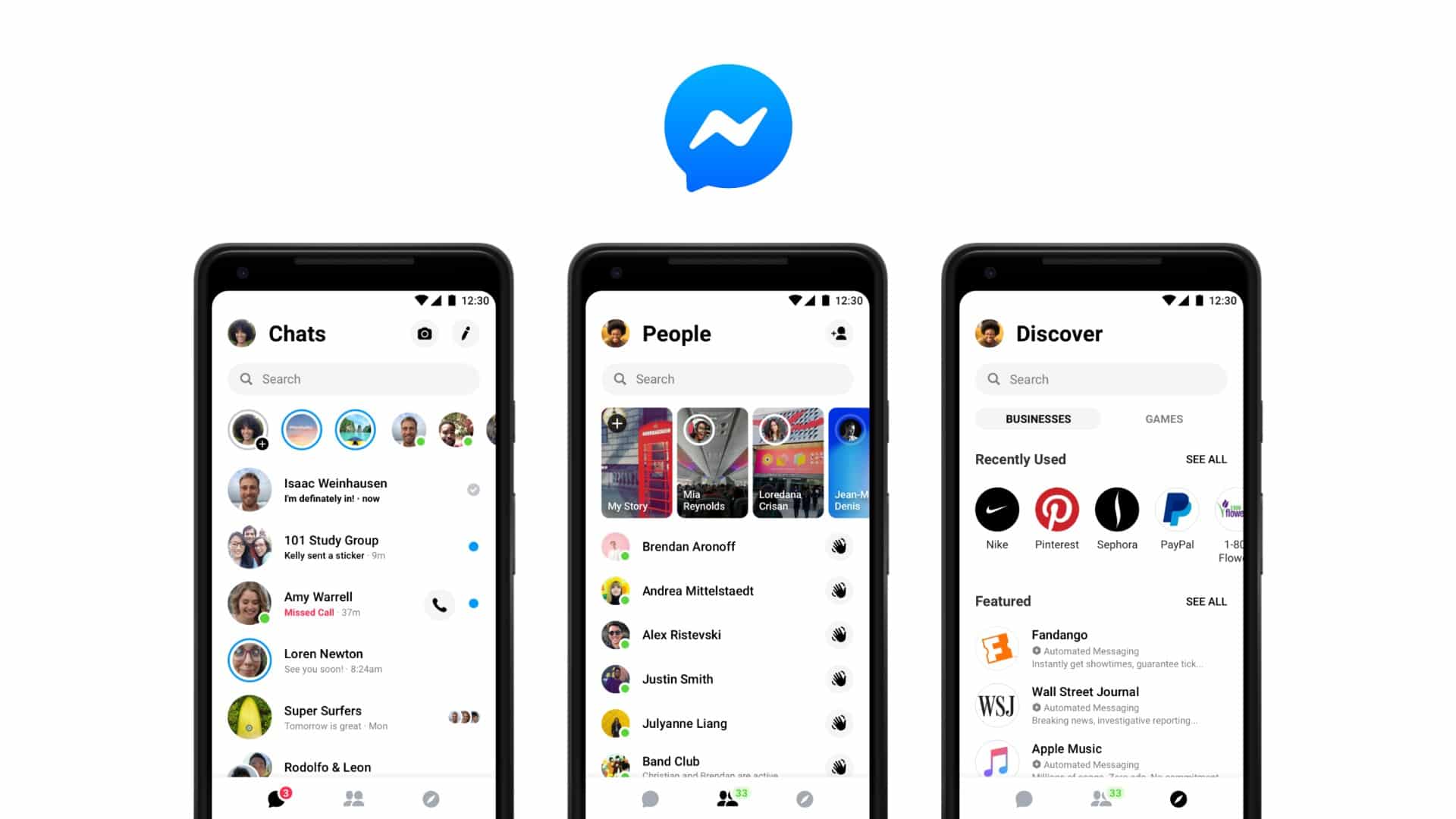 21 Mar

New Messenger .. Here are the top 5 new features added

Facebook announced for the first time the release of the "Messenger 4" redesigned in October, has already appeared briefly update in early December before it quickly fade from users' devices, and then Facebook launched a new design for the implementation of instant messaging Messenger through January 2019.

The new design comes with many features, including the ability to undo sending a message within a certain time period – announced by Facebook yesterday – a feature that already exists in many messaging applications, including the Facebook-owned Wattabab application.

Here are the top 5 features added in the new design for the Messenger application:
1- Three tabs only
The UI has only three tabs instead of the set of tabs that were located along the bottom of the app, so users can communicate without distracting.
The three tabs have become as follows: Chats, People People, Discover Discover.
The Chats tab is where you can see your contacts' stories and access recent conversations, the People tab shows you active people, gives you a clearer preview of their latest stories on Facebook, and finally the Discovery tab where you can Find local business activities to send messages, run games and interact with other Facebook pages.Gradient in conversations
2- Gradient in conversations
Previously there was the option to customize chat color in the Messenger application, but now in Messenger 4 there are now gradient color options.
When you select a gradient color, the messages you send in the chat will move from the selected color to a completely different color as you scroll up during chat.
To change the color assigned to chat, tap the person's name or group chat name at the top of the screen, and then select the color on the settings page.
3- Conversation controls
Scroll through either side of the conversation on the Chat tab to access quick actions. For example, scrolling to the right will give you the Menu button, Mute button and Delete button, while scrolling in the opposite direction will give you the option to turn on the camera and start a voice or video call.
4- Transfer of chat features
Before the updated interface, an animation or many of the many applications that integrate with Messenger were easily visible, but after the update the application icons were moved behind the four-point icon next to the text-writing field, as shown in the image above.
5- Dark mode
According to the Facebook update for the Messenger update last October, the company said that Redesign will take some time for users to get used to, so in the future will add more features such as night mode feature.